It can be a challenge to compare machines from different manufacturers, because of the different ways implement width can be measured. The chart below provides you with the measurements we consider most relevant in determining what size groomer will work best for you. As you compare the G2 with other machines on the market, be sure you are comparing apples to apples. We think once you have the real scoop, you will like our apples better.

Additional Implements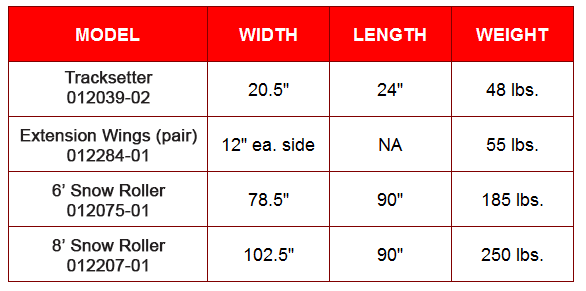 Accessories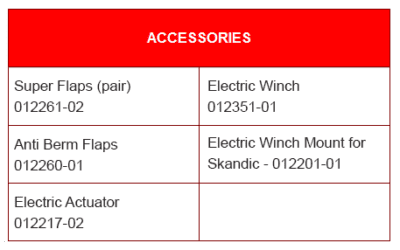 Prices subject to change without notice. Prices do NOT include shipping.
Comparison of 4′ vs. 6′ Trail Tenderizers
First let's talk about trail widths: A basic multipurpose cross country trail with one set of classic tracks on the side and a skating lane wide enough to be usable without disrupting the classic tracks requires an overall width of at least 10 feet. You can groom this trail with identical results with either a four foot or six foot Trail Tenderizer and Tracksetter . The only difference will be the number of passes required to obtain the finished trail.
With the four foot unit, this trail is groomed with the Tracksetter down (and positioned in the center of the Trail Tenderizer) on the first pass, and then followed with two passes with the Tracksetter up to widen out the skating lane. With a six foot unit, this trail is groomed in two passes: One with the Tracksetter down (and positioned to one side of the Trail Tenderizer), and one pass with the Tracksetter up to widen out the skating lane.
Either way, you will end up with the same trail when you are done. The four foot unit is easier to pull, and therefore can be pulled with most snowmobiles on moderate terrain. The six foot unit will require a larger work/utility machine to pull, and more attention must be paid to implement adjustment to prevent bogging the machine down on steeper hills. Most customers that purchase six foot implements are grooming larger trail systems where the increased implement width saves considerable manpower and machine time. Many of these customers are also using optional electric actuators and winches to make implement adjustments "on the fly" from the seat of the snowmobile.